Specialized Discipleship Groups
Here's a few of our Specialized Discipleship Groups opportunities!
And here's a few more!
Membership Class
New to The Way? Interested in learning more about partnering with us in the mission that God has called us to? Join us as we explore the following areas: Mission and Vision of The Way, Core Values, Baptism and Communion Practices,Church Leadership and Governance, Ministry Opportunities: How is God calling you to grow personally and how are you being led to serve?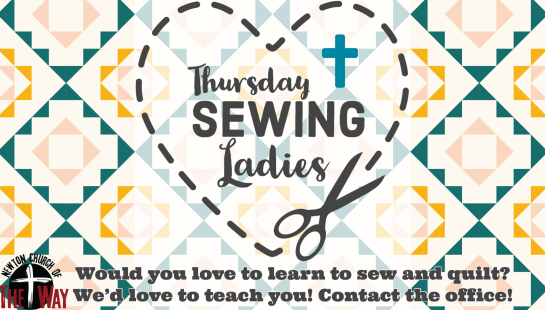 Thursday Sewing Ladies!
Thursday Sewing | Would you love to learn to sew and quilt? We'd love to teach you! Contact the office for details.
Here's a complete list of our Specialized Discipleship Groups!
These groups meet and complete at different times throughout the year! Keep an eye on our events page for the current events.
• Divorce Care
• Financial Peace
• Gathering Table
• GriefShare
• Ladies Sewing Group
• Made to Crave
• Many Hands for Haiti Mission
• Marriage Class
• Membership Class
• Operation Finding Freedom
• Parenting Class
• Spirit Led Work Ministry
• The Bridge
• NEW as of 2022, Hope for Hurting Parents